Arranged of Environment and Seed Fair'2018
Date Published: 22 March, 2018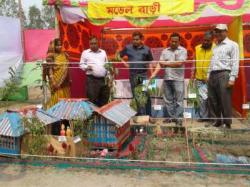 Last Updated: 22 March, 2018
Udayankur Seba Sangstha (USS) has organized day long Environment and Seed Fair by right holders with the support of USC-Canada at New Model Pre-Cadate School play ground of Palashbari union under Nilphamari Sador Upazila on 14 March'2018 for technology dissemination of local vegetable seeds production, storage in house and organic vegetable production. Right holders were displayed different technology in 13 stalls. The stalls were ARC seed bank, community seed bank, seed model house activities, Local variety vegetable seed plot, Participatory Variety Selection (PVS) seed plot, organic pesticide production & use, organic vegetable production, vermi compost production & storage, germplasm conservation, organic vegetable market corner, pre-school activities, Dhan bank activities, gender equality project activities.

Orup Roton Roy, Vice Principal of New Model Pre-Cadate School was as chair person of the fair Agriculturist Md. Abul Kashem Azad, Deputy Director (DD) of Department of Agricultural Extension (DAE), Nilphamari district was chief guest and agriculturist Mazedul Islam, Upazila Agriculture Officer of Nilphamari Sader upazila was also attended as special guest of stall investigation and discussion session. Profullo Kumer Roy & Jannatun Fardous, Sub-assistant Agriculture Officers were present in opening event, Abdul Kuddus Sarker coordinator of M&E of USS was present whole day of the fair.
Chief Guest emphasized on production, storage and use of local varieties of vegetable seeds applying organic methods in his discussion for reduce dependency to seed seller and save money. Special guest said Banglasedhi people are not well aware regarding organic vegetable consumption but huge amount of organic vegetables demand in abroad especially in europ sub continent and there may export organic vegetables. Organic vegetable help to keep good human health & soil and save environment.
A drama team organized a drama on seed production, preservation, organic vegetable production & consumption for awareness raising. A debate competition was held on the theme of people awareness is main to produce organic vegetables. Poroshmoni high school debate team was participated in favour of the above mention theme and Kokoi Borogacha P.C High School participated as opposition debate team. Kokoi Borogacha P.C High School selected as winner team by wise judge team.
Reporter: Md. Jomil, Coordinator, SoS, USS
MORE USS Events